In fact, Spherical Bearings are used in smaller sub-components of this type of suspension, for example certain types of constant-velocity joints.
Spherical bearings are used in car suspensions, engines, driveshafts, heavy machinery, sewing machines, robotics and many other applications.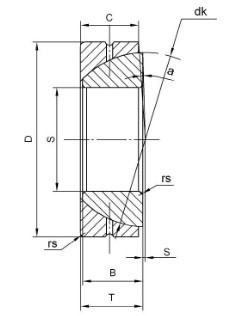 As their name implies, the sliding contact surfaces of Angular Contact Spherical Plain Bearings GACZ-S are spherical in shape and inclined at an angle to the bearing axis. Consequently, these bearings are well suited for accommodating combined (radial and axial) loads.
Bearing Designation
Dimensions(mm/in)
Load rating(KN)
d
D
B
Dynamic Load
Static Load
GACZ12S
12.7
22.225
6.86
18
0.013
GACZ12S
0.5
0.875
0.27
18
0.013
GACZ15S
15.875
26.988
8.64
31
0.025
GACZ15S
0.625
1.0625
0.34
31
0.025
GACZ19S
19.05
31.75
10.41
47
0.038
GACZ19S
0.75
1.25
0.41
47
0.038
GACZ22S
22.225
36.512
12.19
66
0.049
GACZ22S
0.875
1.4375
0.48
66
0.049
GACZ25S
25.4
41.275
13.97
87
0.085
GACZ25S
1
1.625
0.55
87
0.085
GACZ31S
31.75
50.8
17.78
142
0.159
GACZ31S
1.25
2
0.7
142
0.159
GACZ34S
34.925
55.562
19.56
159
0.213
GACZ34S
1.375
2.1875
0.77
159
0.213
GACZ38S
38.1
61.912
21.34
197
0.301
GACZ38S
1.5
2.4375
0.84
197
0.301
GACZ44S
44.45
71.438
24.89
273
0.458
GACZ44S
1.75
2.8125
0.98
273
0.458
GACZ50S
50.8
80.962
28.7
365
0.671
GACZ50S
2
3.1875
1.13
365
0.671
GACZ57S
57.15
90.488
32.26
466
0.948
GACZ57S
2.25
3.5625
1.27
466
0.948
GACZ63S
63.5
100.013
36.07
589
1 13
GACZ63S
2.5
3.9375
1.42
589
1 13
GACZ69S
69.85
111.125
39.62
694
1.75
GACZ69S
2.75
4.375
1.56
694
1.75
GACZ76S
76.2
120.65
43.43
838
2.28
GACZ76S
3
4.75
1.71
838
2.28
GACZ82S
82.55
130.175
47.24
995
2.89
GACZ82S
3.25
5.125
1.86
995
2.89
GACZ88S
88.9
139.7
50.8
1167
3.57
GACZ88S
3.5
5.5
2
1167
3.57
GACZ95S
95.25
149.225
54.61
1348
4.35
GACZ95S
3.75
5.875
2.15
1348
4.35
GACZ101S
101.6
158.75
58.42
1545
5.26
GACZ101S
4
6.25
2.3
1545
5.26
GACZ114S
114.3
177.8
65.79
1990
7.76
GACZ114S
4.5
7
2.59
1990
7.76
GACZ127S
127
196.85
73.15
2445
11.07
GACZ127S
5
7.75
2.88
2445
11.07
GACZ152S
152.4
222.25
78.74
2955
17.37
GACZ152S
6
8.75
3.1
2955
17.37
Single Angular Contact Spherical Bearings GACZ-S Series can only accommodate axial loads acting in one direction. These bearings can be separated, enabling the rings to be mounted separately.





Looking for ideal Angular Contact Spherical

Plain Bearings

GACZ-S Manufacturer & supplier ? We have a wide selection at great prices to help you get creative. All the Angular Contact Bearings GACZ-S Series are quality guaranteed. We are China Origin Factory of Angular Contact Spherical Bearings GACZ-S Series. If you have any question, please feel free to contact us.

Product Categories : Spherical Plain Bearings > Angular Contact Spherical Plain Bearings